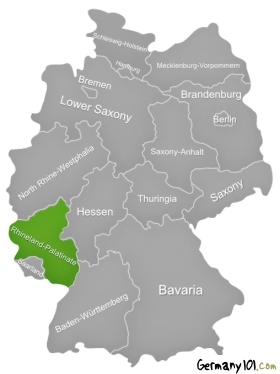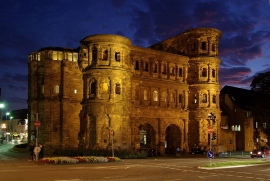 "Trier Porta Nigra BW 4" by Berthold Werner - Own work.
Licensed under Creative Commons Attribution-Share Alike 3.0-2.5-2.0-1.0 via Wikimedia Commons
"Carolaturm Lay" by Frila - Own work.
Licensed under Creative Commons Attribution-Share Alike 3.0
via Wikimedia Commons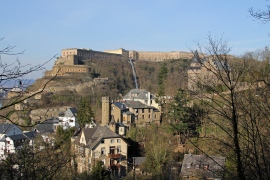 "Klausenburg Rheinburg Koblenz-Ehrenbreitstein 2012" by Holger Weinandt - Own work.
Licensed under Creative Commons Attribution-Share Alike 3.0-de via Wikimedia Commons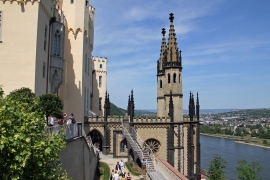 "Koblenz im Buga-Jahr 2011 - Schloss Stolzenfels 03" by Holger Weinandt - Own work.
Licensed under Creative Commons Attribution-Share Alike 3.0-de via Wikimedia Commons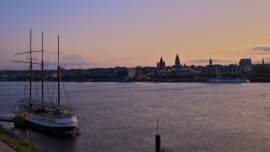 "Pieter van Aemstel" by Benjamin Dahlhoff - Own work.
Licensed under Creative Commons Attribution-Share Alike 3.0
via Wikimedia Commons
"Portal in Mainz" by Immanuel Giel - Own work.
Licensed under Creative Commons Attribution-Share Alike 3.0
via Wikimedia Commons
Why visit Rhineland Palatinate
There are plenty of reasons to visit this region of Germany. For one, Rhineland Palatinate is the biggest wine region in Germany, which makes it the ideal holiday destination for people who would like to sample some exciting wines during their holiday (and maybe even take a few bottles home with them). Rhineland Palatinate also has its fair share of castles (you can even sleep in some), ruins, museums, art galleries and theaters. Lovers of culture will be spoiled for choice. In addition, Rhineland Palatinate also has a wide variety of outdoor activities for you. This region of Germany is ideal for families because it has something to keep everyone in the family happy. But of course single travelers will also be able to enjoy the wide variety this region has to offer.
Best time for a visit
If you are interested in the outdoor activities, and would also like to visit castles, ruins and other places of interest that aren't 100% covered, then you should choose one of the warmer months of the year – otherwise you'll just be cold, wet, and miserable. Winery tours are also a lot more fun in summer and autumn, as you might be able to taste some of the new wines.
If you, however, come to this region because of the museums, the galleries and theaters, then it does not matter whether you go in summer or winter.
If you would like to witness the spectacular "Rhine in Flames", then you need to travel to the area between May and September. There are also various wine festivals in summer and autumn.
Places and activites you shouldn't miss
Sleep over in a castle
If you ever wanted to take a step back in time, then why not spend a night in proper castle? There are a few castles in Rhineland Palatinate that over sleep overs. They can either be quite basic or luxury. There's a castle sleep over for almost every budget, and it's definitely a special experience that will stay in your memories for a long time. Especially when the castle is haunted.
A cruise on the Rhine
Of course, the river Rhine plays an important role in Rhineland Palatinate. You have various options for cruises on the river – from cruises that last a couple of hours, to cruises that take you all the way into other countries. A long cruise on the Rhine is the ideal option to see many of the important places of the area without having to move much yourself. Of course those cruises can take you out of Rhineland Palatinate, too.
Koblenz
In Koblenz, you can visit the German Corner, where the rivers Mosel and Rhine meet. This is a great city for cruises on the river, to watch the "Rhine in Flames" in September, and to simply take in a lot of culture. Of course it's also a good place to watch one or the other soccer game.
Mainz
Mainz is the capital city of Rhineland Palatinate, and has a lot to offer. The city was the home of Johannes Gutenberg, who has a whole museum dedicated to him. Of course, there are also other, more general museums for you to enjoy. There is a dome, various houses of worship, and some lovely walks along the river.
Kaiserslautern
Kaiserslautern is famous for its soccer team, so you might be lucky enough to see one of their games during your stay (if you have an interest in soccer). It is also famous for Ramstein, and its military history.
Speyer
Speyer has a lot to offer for people who love old cities and have an interest in old history. Speyer is one of the oldest cities in Germany, and many of the old buildings can still be seen and visited (though some are naturally ruins). The old city center is very charming, and if you had enough of all the history, you could simply watch a movie in the modern IMAX center.
Trier
Trier is the oldest city in Germany, and a must for history lovers. Many signs of Roman times are still visible in the historic center, and many buildings are protected by the UNESCO, e.g. the Porta Nigra gate. There are Roman baths, a Roman amphitheater, and for something a bit more recent, you could visit the birth house of Karl Marx (who was born in 1818).
Ahr (river valley)
If you would like a relaxing holiday with a focus on health and wine (a good combination, isn't it?), then the Ahr Valley would be the ideal place for you. There are medicinal springs you can visit, spas, and of course a few lovely wineries that will let you sample their best wines.
How to plan your trip to Rhineland Palatinate
Traveling within Rhineland Palatinate is comparably easy. Apart from booking your accommodation well ahead of time if you plan to travel during high season, you don't need to worry much. You might want to make a list with the things you definitely want to see – because there simply is so much to see, and you might have to miss out on a few places and activities if you are short on time.