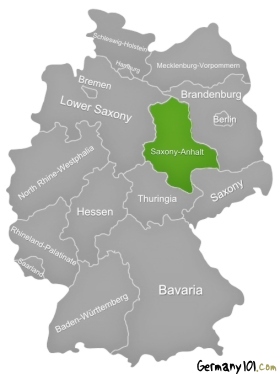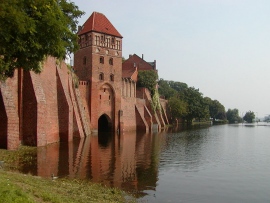 "Tangermünde3" by Ingo2802 - selbst fotografiert von Ingo2802.
Licensed under Creative Commons Attribution-Share Alike 3.0
via Wikimedia Commons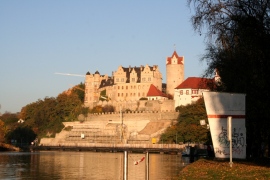 "Bernburg".
Licensed under GNU General Public License
via Wikimedia Commons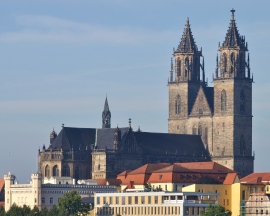 "Dom (Magdeburg-Altstadt).Ansicht Neue Strombrücke.ajb" by Ajepbah - Own work.
Licensed under Creative Commons Attribution-Share Alike 3.0-de
via Wikimedia Commons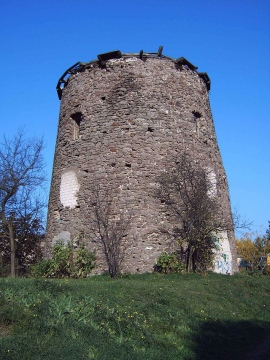 "Düppler Mühle".
Licensed under Creative Commons Attribution-Share Alike 3.0
via Wikimedia Commons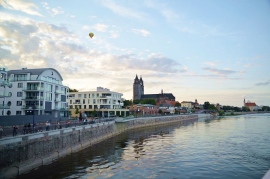 "Elbufer Magdeburg mit Dom" by Torsten Maue - Flickr: Elbufer.
Licensed under Creative Commons Attribution-Share Alike 2.0
via Wikimedia Commons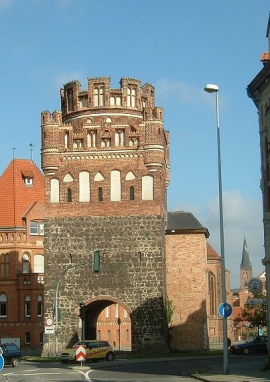 "Tangermündertor peng1" by --Peng 15:32, 5 September 2005 (UTC) - selbst gemacht.
Licensed under Creative Commons Attribution-Share Alike 3.0
via Wikimedia Commons
Why visit Saxony Anhalt?
Saxony Anhalt is a place that is interesting for visitors with an interest in culture, architecture, design, and gardens. There are a few historically important places you would not want to miss, but on the other hand there are also the Harz mountains to be explored. However, the main reason why people go to Saxony Anhalt is the rich history, the many cultural sights, and the fantastic gardens that you can find all over the place.
Best time for a visit
As many of the interesting attractions of this area are outdoors, it is recommend to go there during spring, summer or early autumn. Winter in Saxony Anhalt has its own charm, of course, but you might also just be cold and miserable when you try to fit in all the lovely gardens during a cold winter's day. It is definitely better to choose a warmer and drier season of the year.
However, if you are after fantastic skiing, then winter is the best and only option for you. Visitors usually don't go to Saxony Anhalt for the skiing though as there are better options for that winter sport in other regions of Germany.
Places you shouldn't miss
Quedlinburg
In 1994, the old town and its medieval court were on the UNESCO world heritage list, and are still worth a visit today. The town itself is North of the Harz mountains, so you might want to combine a visit to Quedlinburg with a trip to the mountains that have something to offer for everyone (i.e. for the fit and the not so fit alike). The interesting facet of this town is the Romanesque architecture. Quedlinburg is part of a popular holiday route called "Romanesque Road". It is also an interesting town to get a good idea about the architecture in different centuries. After all, you can find houses from over five different centuries in the city center. Go out on a tour of the town and guess which century the various buildings are from, and then check whether you've been right. Of course there is also a castle and a cathedral you can visit.
Wittenberg
The name should ring a bell if you are reasonably well educated, and haven't forgotten most of what they taught you during history lessons. Wittenberg is a decent sized city, and has everything a tourist could want, but the most important fact for a visitor is that this the place of the dawn of the Protestant Reformation, and where Martin Luther was active. Wittenberg thus has many historically important sights you can visit, interesting museums and galleries. You can visit some of the places that were connected to Martin Luther, and can learn more about him in a museum dedicated to him.
Eisleben
Speaking of Martin Luther, we might as well recommend a visit to his hometown to you. Eisleben is easily reached by train, and about half the size of Wittenberg. Eisleben might not have very much to offer attraction-wise, but it is worth a visit if you have an interest in the life of Martin Luther.
Dessau
Dessau is the right place for you if you like the combination of palaces and gardens. Dessau has a few of them for you. There is also the opportunity for trips on the river, a visit to a lovely zoo, and an exploration of a biosphere along the river Elbe. As if that alone wouldn't keep you busy, you can also see various building that are built with the Bauhaus architectural style, visit some educational museums, check out quite a few old and even older churches, and go for a walk through the city to take in some of the architectural sights like the old townhall.
How to plan your trip to Saxony Anhalt
Getting to Saxony Anhalt is not a problem as it is well connected to the German railway system. If you plan on getting there by plane, however, you need to know that there is only one very small airport in the region, and you might have to travel a few hours by train to get from one of the bigger centers to Saxony Anhalt. Only few airlines actually fly to the small, local airport. Once you are in the region, getting around should not be much of a problem unless you would like to get to a remote town (then you need to plan well if you use public transport).
During German school holidays, some parks can become quite busy and noisy, as parks are a favorite holiday spot for many Germans. If you would like to have more peace, then try to plan your visit during a less busy time, i.e. avoid the German school holidays, or go to parks early in the morning when people are still sleeping in.