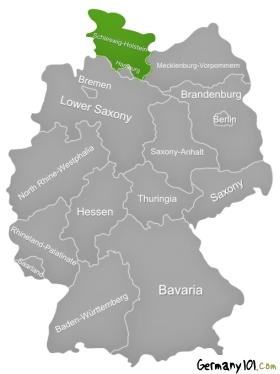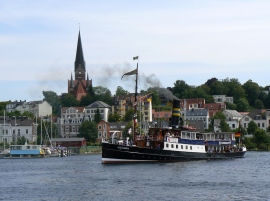 "Alexandra Hafen Flensburg2007" by VollwertBIT - Own work.
Licensed under Creative Commons Attribution-Share Alike 3.0
via Wikimedia Commons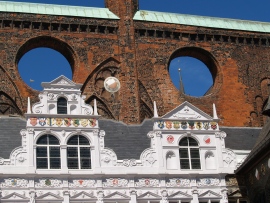 "Germany Luebeck townhall detail (3)" by Arnold Paul - Own work (selbst erstelltes Foto).
Licensed under Creative Commons Attribution-Share Alike 3.0
via Wikimedia Commons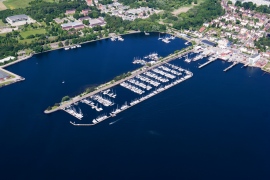 "Kiel Sporthafen Stickenhoern" by Louis-F. Stahl - Own work.
Licensed under Creative Commons Attribution-Share Alike 3.0-de
via Wikimedia Commons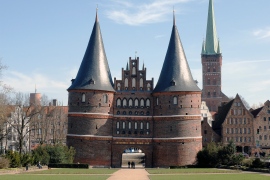 "Lübeck Holstentor 070311" by Torsten Bolten - Own work (own photo).
Licensed under Creative Commons Attribution-Share Alike 3.0
via Wikimedia Commons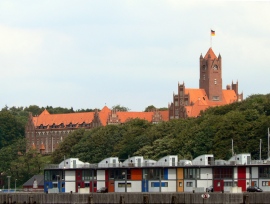 "Marineschule Sonwik Flensburg2007" by VollwertBIT - Own work.
Licensed under Creative Commons Attribution-Share Alike 2.5
via Wikimedia Commons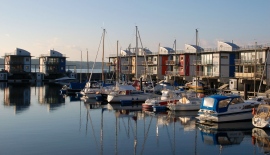 "Sonwik, Flensburg, Germany 0717" by Arne List - own work (Nikon D50 with Sigma DC 17-70 mm, 1:2,8-4,5).
Licensed under Creative Commons Attribution 3.0
via Wikimedia Commons
Why visit Schleswig Holstein?
Schleswig Holstein is famous for the horses bred on the various estates. This naturally, in combination with a great landscape for horse riding, leads to Schleswig Holstein being the ideal destination for people who love horses and would like to go on a horse riding holiday. Yet, this state of Germany also has a lot to offer for people who couldn't care less about horses. There are historically significant places, interesting museums, zoos, playgrounds for the kids, cultural events and a great variety of architectural styles that don't mind being admired by visitors.
From the rolling hills of the countryside (don't expect proper mountains) to the lovely beaches; it's a wonderful state, and a great destination for your holiday.
Best time for a visit
Schleswig Holstein is at its best in summer when the sky is blue and the seagulls flying along are a stark contrast against the sky with their white feathers (seriously, you should watch them – they are magnificent birds). The beaches are fantastic in summer, and you'll be able to enjoy a lovely swim. The landscape is also dramatic during other times of the year, but the water might not be warm enough to swim in. If you can, you should visit this state in summer or during the shoulder seasons. Winter is only recommended when you are into a culture and history holiday, and don't plan to spend much time outdoors.
Bird watchers, however, might also want to consider the colder seasons of the year. Many migratory birds make their way to the Wadden Sea during autumn, and you can see different types of birds in all seasons. If you are mainly going to Schleswig Holstein for the birds, then you might want to plan it according to the birds' migratory patterns.
Places and activities you shouldn't miss
Kiel
Kiel is the biggest city in Schleswig Holstein, and also prides itself on being the state's capital. It would be a mistake to not spend a couple of days in this city. You can learn a lot about the local culture and history in a variety of museums, and see the Viking influence on the local art.
Thomas Mann's birthplace
Thomas Mann is one of the most important German author, and has been translated into many languages. Fans of this author can visit some places that were important in his life in Lübeck, the place of his birth.
Lübeck
Lübeck is not just the birthplace of Thomas Mann, but also has quite a bit of history to offer to the curious visitor. The old city center is a UNESCO world heritage site, and there are many interesting places to explore and to discover. It is also a great city to see the typical Hanseatic architecture and learn more about the importance of the sea in Germany's history.
Isle of Sylt
Schleswig Holstein's location means that there are some lovely islands and beaches for you to visit. The Isle of Sylt is a very popular isle, and you'll surely recognize it from postcards or picture books. If you decide to spend some time there, you'll come back home with some magical photos you took yourself!
Wadden Sea (a UNESCO world heritage site)
This is a tidal area with extensive wetlands – not exactly the kind of sea to swim in. The attraction of this area lies in the watching of wildlife, birds in particular. If you enjoy bird watching, then this is one of the places to watch quite a few waders and sea birds (depending on the time of the year). It is said that the Wadden Sea is one of the area in which you find one of the densest bird populations in Europe – but if you are an experienced bird watcher, you will also know that there are certain times of the year when different species disappear to other countries.
A horse trek on a sandy beach
If you love horses, then you should not miss out on one of the horse treks that are offered along the sandy beaches. On a nice summer's day, you'll feel like you're riding in a dream. Inexperienced riders can also take part in guided tours. More experienced and confident riders can also head out on their own.
How to plan your trip to Schleswig Holstein
Schleswig Holstein is reasonably easy to get around in and to get to. You only need to consider the general rules of: book your accommodation and your transportation to the place in advance (flights are usually cheapest six weeks before you travel). If you plan to travel during German school holidays, book your hotel well in advance, esp. if it is close to a beach. Those hotels are very popular.
Apart from that, Schleswig Holstein should not be problematic to travel in as it is a very popular area for national and international tourists. Hence, the local places are also used to giving out helpful information in the form of leaflets and booklets.