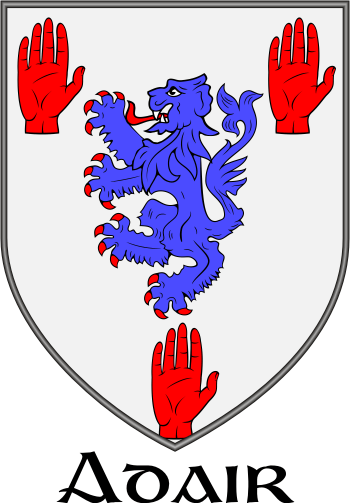 Get this crest printed on...
ADAIR Family History
This name derives from the Olde English pre 7th Century personal name Eadgar, a compound of the elements "ead" meaning "Prosperity -spear". The name is found in Medieval English in various forms i.e. Edgar, Adger, Agar etc., and is first recorded as Edgar in the Domesday Book of 1086, for Huntingdonshire. The surname from this source first appears in the mid 13th Century, (see below). In the "modern" idiom, the name has no less than seventeen spelling variations, including Edgar, Eag(g)er, Egar(r), A(d)ger etc.. On May 29th 1606, William Adair married Margaret Johnstown, at Edinburgh Parish Church, Edinburgh, and Alisone Adair was christened there on November 18th 1610...