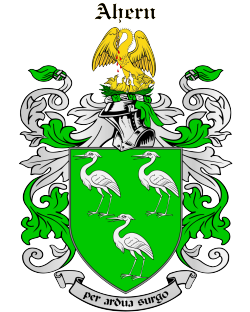 Get this crest printed on...
AHERN Family History
This is an Anglicized form of the Old Gaelic name "O" hEachthighearna. The Gaelic prefix "O" indicates "male descendant of", plus the personal name Eachthighearna, a compound of the elements "each", a horse, plus "tighearna", lord or master. Hence, "lord of the horses". The Ahe(a)rns were originally a Dalcassin sept i.e., belonging to County Clare and Limerick. Their territory was in the neighbourhood of Sixmilebridge, County Clare. From here they migrated southwards to County Cork and Waterford and in Petty's census (1659) the name was widespread in these counties. To-day, the name takes the form Hearn or Hearne in County Waterford...