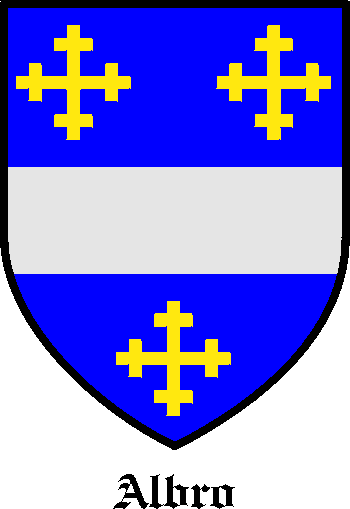 Get this crest printed on...
ALBRO Family History
This ancient name recorded as Albury, Albery and Albro, is of Anglo-Saxon origin, and is a locational surname deriving from any one of the places called Albury in Hertfordshire, Oxfordshire and Surrey. These places are all recorded in the Domesday Book of 1086 as "Eldeberie", "Aldeberie" and "Ealdeburi" respectively, and all share the same meaning and derivation, which is "the old town, fortified place", from the Olde English pre 7th Century "eald", old, with "burg, burh", fort, town, often referring to a Roman or other pre-English fort. Locational surnames were acquired by local landowners, and the lord of the manor, and especially by those former inhabitants of a place who had moved to another area, usually in search of work, and were thereafter best identified by the name of their birthplace...