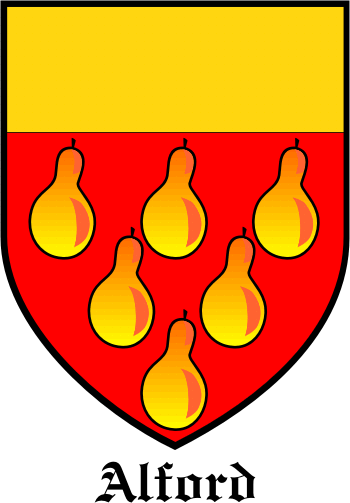 Get this crest printed on...
ALFORD Family History
This is a truly ancient locational surname. It apparently originates from the villages of Alford in Lincolnshire, Surrey and Somerset or possibly from some now 'lost' medieval site of the same spelling. The Lincolnshire village name is recorded in the 1086 Domesday Book as commissioned by William the Conqueror, in the spelling of 'Alforde'. This, according to the Dictionary of English Place Names means the 'ford by the temple', the latter being a place of pagan worship. A secondary possible meaning given is the 'ford by the alder trees', and logically this would seem a more likely explanation. Curiously the meaning for the Somerset village is given as 'the ford of Ealdgyp', which translates as the 'ford of the old woman!' Early examples of the surname recording include John Alforde of Somerset in the historic rolls known as 'Kirby's Quest' for the year 1273, whilst John de Aldeforde is recorded in the Hundred Rolls of that county for the same year...