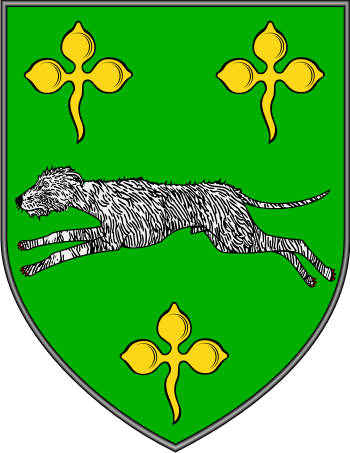 Get this crest printed on...
BANNON Family History
This interesting surname, with variant spellings O'Bannan, (O')Bynnan, (O')Banane, Banan etc., is an Anglicized form of the Old Gaelic O Banain. The Gaelic prefix "O" indicates "male descendant of", plus the personal byname "Banain", a diminutive of "ban" white or fair. Three distinct septs of O'Banain existed in medieval Ireland, the principal branch residing at Leim Ui Bhanain, now Leap Castle, in the barony of Clonlisk i.e. the southern tip of County Offaly. In Petty's "census" of 1659 the name Bannon is numerous in that barony, and also in Lower Ormond, County Tipperary. The surname is also widespread in County Fermanagh where it is recorded from the mid 12th Century...