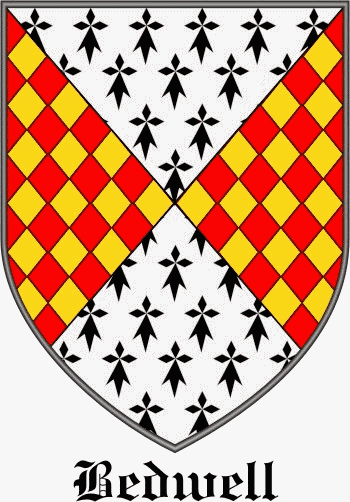 Get this crest printed on...
BEDWELL Family History
This unusual and interesting name is of Anglo-Saxon origin, it can be a topographical or a locational surname. If the former, the name denotes residence by a spring or stream in a shallow valley, derived from the Old English pre 7th Century "byde(n)", vessel, tub, used in the sense of a shallow valley, with Wella, waella", well, spring or stream. As a locational surname, Bedwell, and it's variant forms Bidewell and Bid(d)well, may derive from any of various minor places, in Herfordshire and Essex for instance which are named with the Old English elements as above. Bedwell in Hertfordshire is recorded as "Bedewell" in 1240, and as "Bidewelle" in 1330, and Bidwell in Bedfordshire as "Bedwell" in 1279...