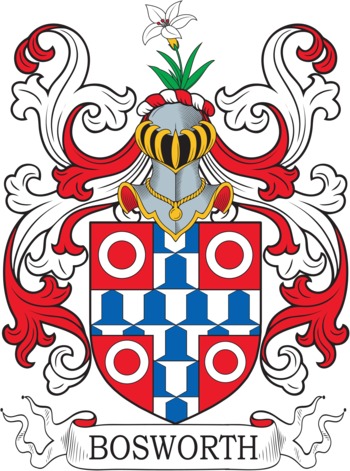 Get this crest printed on...
BOSWORTH Family History
Recorded in several spellings including Bosworth, Bosward, Boswood, Bozward, Bozworth and probly others, this is an English medeival surname. It is locational from either of two Bosworth parishes in the county of Leicestershire. The first is Husbands Bosworth, recorded as Baresworde in the Domesday Book of 1086 from the pre 7th century word "bar" meaning a boar, and "worth", a fenced enclosure. It is unclear why it should have adopted the prefix of Husbands, although the word did describe farmers, and was perhaps deliberate to avoid confusion with Market Bosworth, a place of commerce! Market Bosworth recorded in the Domesday Book as Boseworde, is also the site of Bosworth Field, the famous battle in 1485 between Henry Tudor, the future Henry V11th and the soon to be late Richard 111rd.