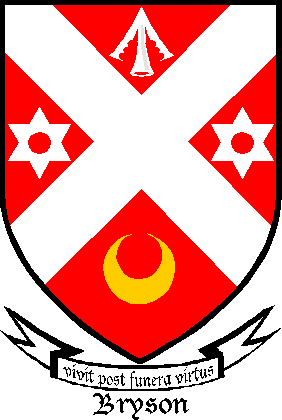 Get this crest printed on...
BRYSON Family History
This interesting surname has two possible origins. The first is a patronymic from the male given name "Brice", i.e. "son of Brice". Brice is a pet form of the Welsh name "Rhys", meaning rashness; an ancient namebearer being King Rhyence of North Wales, whose hobby of collecting the beards of his rivals to trim his cloak proved his undoing when he attempted to complete his collection with King Arthur's. The name may also be an Anglicized form of the Gaelic "O Briosain", an altered version of "O'Muirgheasain" (Morrissey), meaning "son of Muirgheasain". In Ireland it originated in Ulster, particularly in Counties Donegal and Derry...