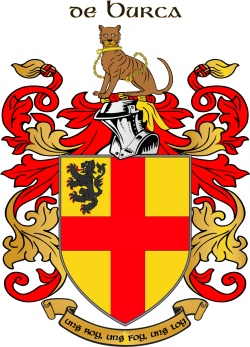 Get this crest printed on...
BURK Family History
DE BURGH (of the burgh - Old German for `fort/castle`) Gaelicised de Burca, Anglicised Burke and Bourke.
William de Burgh arrived in Ireland shortly after the Norman invasions of the 1170s. He was made Lord of Connacht and acquired lands there, and Munster, where the baronies of Clanwilliam are named after him. (MacWilliam was a byname). Richard Mor de Burgh, his son, extended their power; some descendants became known as Clanricarde (Clan Richard), fearsome warriors throughout the late Middle Ages and beyond. These Normans likely derived their name from Walter de Burgh of Burgh Castle in East Anglia; there is also a legend that they descend from Robert de Burgo, half brother of William the Conqueror. In any case there are early continental forms of the name, - burg is fort in Old German - Walter is also a Germanic name.
In Petty`s 1659 Census, Bourke/Burke is given as a Principal Irish Name in Clanwilliam Barony, Co Limerick (where there are several `tituladoes` or landowners of the name also) and Limerick city.
In Griffith`s Valuation (1847-1860) the counties with most Burke households were: Galway (906), Tipperary (674), Mayo (458), Cork (332) and Limerick (283)
A Famous Bearer: Bernard Burke (1814-1892) Ulster King of Arms, and editor of Burke`s Peerage.
An infamous Bearer: William Burke (1792-1829) part of the duo of murderers and body-snatchers operating in Edinburgh 1827-1828