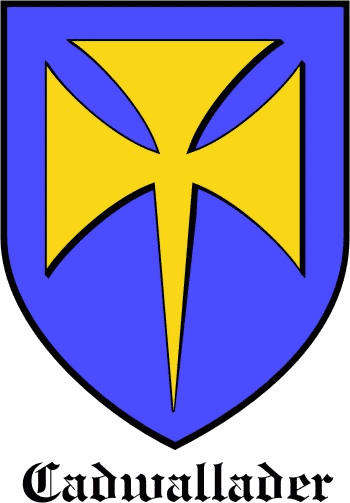 Get this crest printed on...
CADWALLADER Family History
This name, with variant spellings Kadwallider, Cadwallider, Cadalleder etc., derives from an ancient Welsh personal name composed of the elements "Cad", a battle, plus "gwaladr", leader. The name was borne by a 7th Century prince and saint in Gwynedd, son of Cadwallon, and Cadwaladr ap Gruffudd, who flourished circa 1173 was Prince of Cardigan. One, David ap Cadwallader appears on record in "Writs of Parliament for London", under the date 1322. The surname is particularly well recorded in London Church registers from the mid 16th Century, (see below). On December 6th 1590 Mary Cadwallyder, an infant was christened in St. Bride's, Fleet Street, and on February 10th 1610 Heugh Cadwalleder and Hester Dawson were married in St...