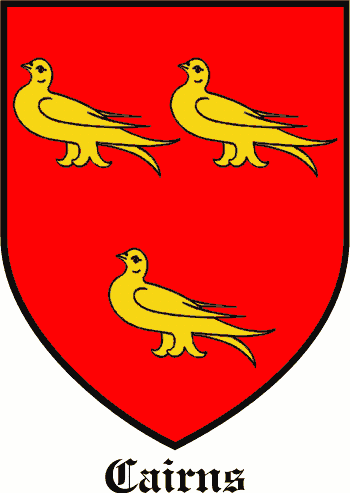 Get this crest printed on...
CAIRNS Family History
This interesting surname is of Scottish territorial origin from the lands of Cairns in the parish of Mid-Calder, Midlothian. The name derives from the Old Gaelic "carn" meaning cairn i.e., a pile of stones raised as a boundary marker or a memorial. The surname first appears on records in the mid 14th Century (see below). In 1363, William de Carnys and his son, Duncan de Carnys, had a Charter of the baronies of Esterquytburne and Westirquitburne from David 11, and in 1365 one, David de Carnys, noted in the Exchequer Rolls of Scotland, was bailie of Edinburgh. William de Carnys was Constable of Linlithgow Castle, and afterwards of the Castle of Edinburgh in 1372...