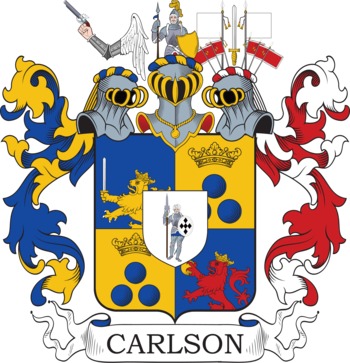 Get this crest printed on...
CARLSON Family History
This most interesting surname recorded in a wide range of spellings from Carl, Carlo, and Charles, to patronymics such as Carlson, Charlson, Charlesson, Charleston, Charlestone, and many others is English but ultimately of pre 5th century Germanic origins. It originates from the personal name Karl or Carl, meaning "man", and later in the medievak period Latinized to Carolus and Charles. This personal name was introduced into England by the Norman-French after the Invasion of 1066, but was never popularized until the Stuart period commencing in 1603.