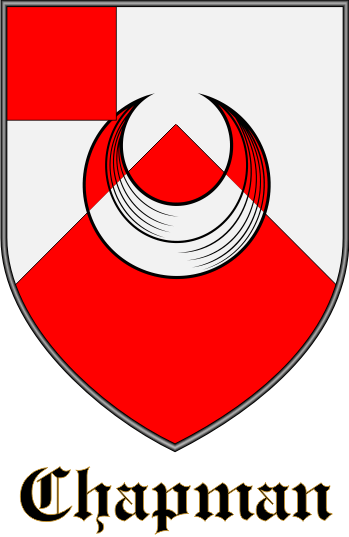 Get this crest printed on...
CHAPMAN Family History
This ancient, popular, and very important surname is of Olde English, German and Anglo-Saxon pre 5th century origins. Spelt in several ways including Chapman, Chipman, and Chipper (English), Kauf, Kaufman and Kaufler Austro-German), and Koopman (Danish), Coopman and de Copeman (Flemish), this is an occupational name for a merchant or trader. It believed that however spelt, the origination is from the Olde English "ceapmann", itself a compound consisting of the elements "ceap", meaning to barter or bargain and "mann", a person, or in this context, a travelling man. The surname development includes the following early examples taken from authentic charters of the period: Alice Chepman of Derbyshire in the year 1207, Berchtoldus Kofman of Weinzberg, Germany, in the year 1287, and Henry le Chupman of Hampshire in 1327...