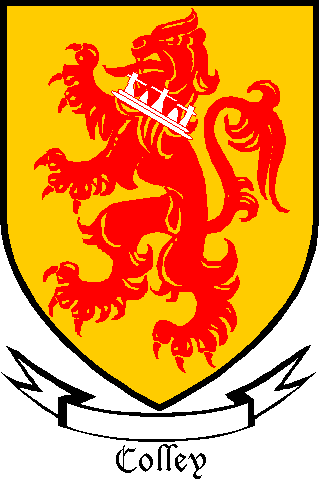 Get this crest printed on...
COLLEY Family History
This very interesting name is of Old English and Anglo-Saxon origins from the period around the 8th Century A.D.. It derives from "colig" meaning "dark or swarthy" and was a descriptive word used by the fair-haired and fair-skinned Saxon invaders to describe the original "Old English" inhabitants, who were much darker in appearance. There is also a possibility that some name holders may derive from the Somerset "colley" meaning, "a blackbird" but the essential translation is the same. The name development includes Dande Colly (1219, Yorkshire), Philip Coli (1275, Worcestershire), and Willelmus Colley (1379, Yorkshire). Robert Collie, aged twenty years, set sail in the "Hopewell" from the Port of London to Barbados, on February 17th 1634...