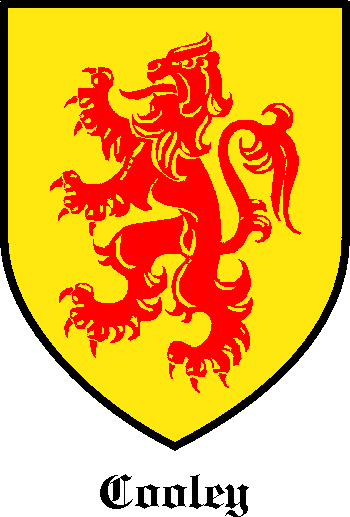 Get this crest printed on...
COOLEY Family History
This interesting surname is of Anglo-Saxon and Irish origin, and has two possible sources, the first being from a nickname for a swarthy person, from the Old English pre 7th Century "colig", dark, black, a derivative of "col", (char)coal. The second source is an Anglicized form of the Gaelic-Irish "Mac Cuille" or "Mac Giolla Chuille", of uncertain origin. This sept was from Connacht and there were many references to members of it in the 16th Century fiants, relating to Counties Roscommon, Galway and Clare. The first recordings (see below) is from the Anglo-Saxon source of the surname. The first recordings in Ireland was of one Elnor Coleye who married Richard Powel on June 5th 1620 at St...