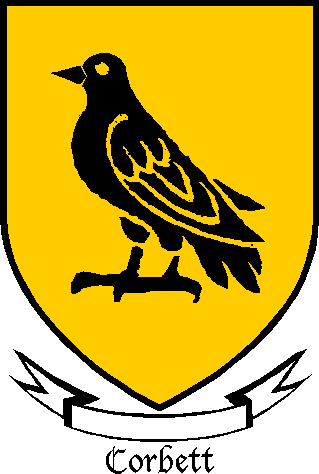 Get this crest printed on...
CORBETT Family History
Recorded in several forms including Corbet, Corbett, Corbitt, Carbert, Corbert, and Corburt, this interesting Anglo Scottish surname is of Norman - French origins. Derived from the French word "corbet", it is translates as "Little raven", in heraldry a highly respected bird known for its ferocity. A quote from Courthope's "Debrett" states that - "Corbet, a noble Norman, came into England with the Conqueror, and from his son Roger Corbet descended the baronial house, as well as the families of the name now existing". The Conqueror referred to is of course William 1st (1066 - 1087), and during his reign many such names were introduced from France...