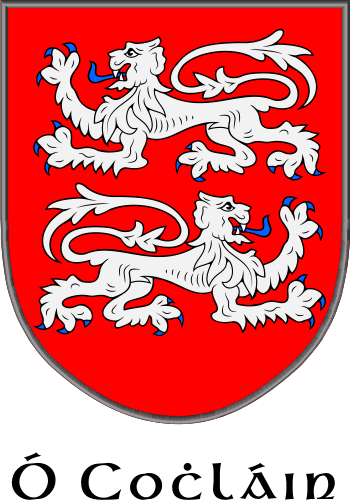 Get this crest printed on...
COUGHLAN Family History
This long-established surname, with variant spellings Coughlan, Coghlan, Co(u)ghlin and Cohalan, is of Irish origin, and is an Anglicization of two distinct Gaelic Irish sept names, the first being "MacCochlain" of County Offaly, and the latter, "O'Cochlain" of County Cork. The Gaelic prefix "Mac" indicates "son of", and the prefix "O", denotes "male descendant of", plus the personal byname "Cochlan", meaning "a short hooded cloak"; hence, "descendant of the cowled or hooded one". The MacCoughlan territory comprised the modern barony of Garry castle, County Offaly, and they had many strongholds in the Banagher - Clonmacnois area. Their chief was known as Chief of Delvin MacCoughlan...