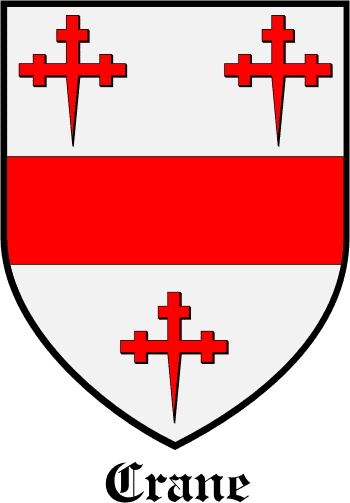 Get this crest printed on...
CRANE Family History
This picturesque name is of Anglo Saxon origin and is a nickname surname given to a tall thin man, or someone with long legs, or some other fancied resemblance to the bird. The derivation is from the old English "cran(uc)", "cron(uc)", "cren(uc)", which means a crane and until the introduction of a separate word in the 14th Century also a heron. The following examples illustrate the name development after 1177 (see below) Jordan Cran (1219, Curia Rolls of Essex), William le Crane (1235, Feet of Fines of Essex), Thomas le Cran (1243, Assize Rolls of Somerset). Interesting namebearers were William Crane water-bailiff for the town and harbour of Dartmouth, Devon, 1509 - 1510, and controller of the tonnage and poundage of customs in the port of London 1514 and Sir Francis Crane, secretary to Charles 1 then Prince of Wales, reported in 1619 to have received the valuable privilege of creating three baronets...