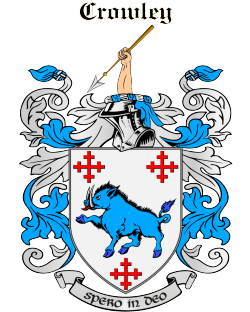 Get this crest printed on...
CROWLEY Family History
Crowley is an Anglicized form of the Old Gaelic "O'Cruadhlaoich". The Gaelic prefix "O" indicates "male descendant of", plus the personal byname "Cruadhlaoich", from "cruadh", hard, and "laoch", a warrior; hence, "descendant(s) of the hard warrior". The great sept originated in Moylurg, County Roscommon, but migrated to Dunmanway, County Cork, and in due course became a leading West Cork sept with a recognized chief residing at Kilshallow. Several of the clan were employed as professional soldiers and the (O) Crowleys usually fought on behalf of the MacCarthys. Their Coat of Arms is silver with a blue boar between three red crosses...