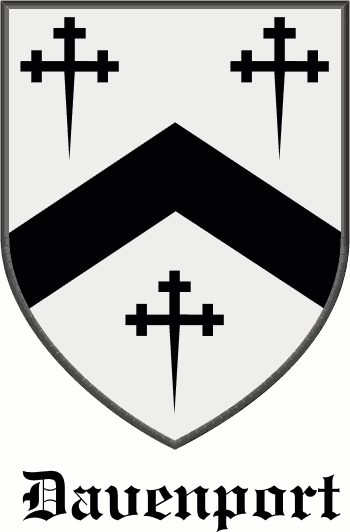 Get this crest printed on...
DAVENPORT Family History
This unusual surname recorded in the spellings of Davenport and Devenport, is of Anglo- Saxon origin, and is a locational name from 'Davenport' in Cheshire. Curiously 'Devonport' in Devon, does not seem to have produced surnames. Recorded as "Deneport" in the Domesday Book of 1086, and as "Devennport" in the 1130 charters of the Abbey of Durham, the place is so called from situation on the river Dane. The river name is an ancient British (pre-Roman) one, "Dauen" or "Daan", related to the Middle Welsh dafn", meaning "a trickling stream". The second element "port" derives from the Olde English pre 7th Century word for a harbour or wharf...