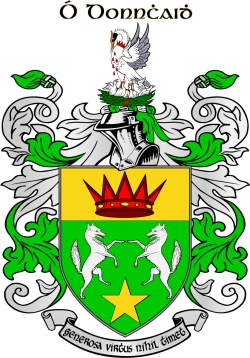 Get this crest printed on...
DUNPHY Family History
Donahue (Donogh, O Donnchadh, Dunphy). At first there were O Donoghue septs in Cork and Kerry, where Ross Castle was their fortress on Lough Lene, Kilarney. Other septs moved up to Galway, Kilkenny and Cavan, where their descendants were usually Donohue. They claim descent from a King of Munster who fought Clontarf in 1014. In Kerry their chieftain was O Dononghue Mor of Ross Castle, while the other was O Dononghue of the Glens, also in Kerry. A 12th century O Donoghue founded the beautiful Jerpoint Abbey in Co. Kilkenny.