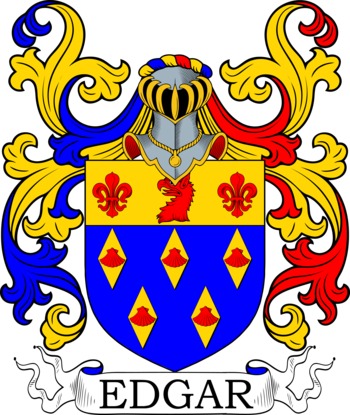 Get this crest printed on...
EDGAR Family History
This interesting surname of Anglo-Saxon origin, with variant spellings Eager, Eagger, Egar, Egarr, Eger, Agar and Agar, is derived from the Olde English pre 7th Century personal name "Eadgar", composed of the elements "ead" meaning "prosperity, fortune", plus "gar", spear. The personal name is found in Middle English in various forms, for example Edgar, Adger and Agar. The surname dates back to the early 13th Century (see below), and further early recordings include: Walter Elgar (1234), in the Feet of Fines of Suffolk; Thomas Algor (1260), recorded in the Assize Court Rolls of Cambridgeshire; and Robert Elger (1271), in "A Descriptive Catalogue of Ancient Deeds of Norfolk".