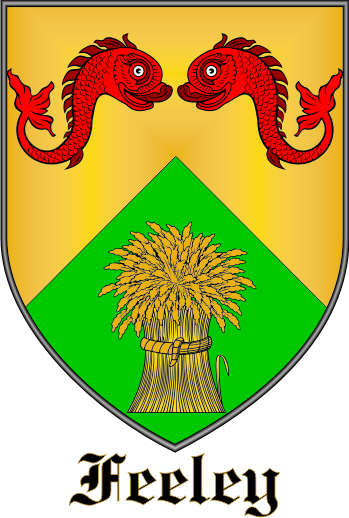 Get this crest printed on...
FEELEY Family History
This name, with variant spellings Feely, Feal(e)y, O' Fihily, O' Fihillie, O' Fielly, Fihelly, Fe(e)hely, Feehily and Field, is an anglicized form of the Gaelic O' Fithcheallaigh. The Gaelic prefix "O" incicates "male descendant of", plus the personal byname "Fithcheallach", meaning "Chess-player". Chess was a game much in vogue in ancient Ireland. This clan originally belonged to Corca Laoidh (South-west Cork) and held territory in Ardfield and Clonakilty. The most notable member of the sept was Maurice O' Fihily (deceased 1516), Archbishop of of Tuam and editor of the works of John Scotus. Another, Maurice O' Fihelly (deceased 1559) was Bishop of Ross...