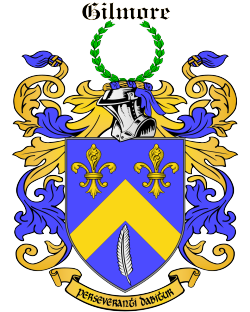 Get this crest printed on...
GILMORE Family History
This interesting surname is of Scottish, Irish and Anglo-Saxon origin, and is an Anglicized form of the Gaelic "MacGille Mhoire" (Scotland), or MacGiolla Mhuire (Ireland), a patronymic from the personal names meaning "servant of (the Virgin) Mary". The surname can also be derived from a locational name, from Gillamoor in Northern Yorkshire, so called from the Olde English pre 7th Century personal names "Getlingas" or "Gyolingas", meaning "people of Getta", or "people of Gyola", and "mor", marsh or moor. Locational surnames were developed when former inhabitants of a place moved to another area, usually to seek work, and were best identified by the name of their birthplace...