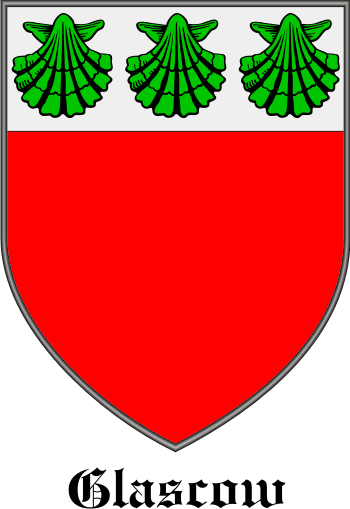 Get this crest printed on...
GLASGOW Family History
This long-established surname is of early medieval Scottish origin. It is a locational name from the old burgh, now city, of Glasgow on the River Clyde, first recorded as "Glasgu" in 1116. It is believed to be named from the Ancient British words "glas", meaning grey or perhaps green, and "cau", a hollow. Situated in west central Scotland, Glasgow is the administrative centre of the Strathclyde region, and is the largest city in Scotland. The city contains the cathedral of St. Mungo, dating from 1179, whilst its university dates from 1450. The Exchequer Rolls of Scotland record that in the year 1289 Andrew de Glasgow, an official of the burgh, was appointed to take notice of the "escheats" or forfeitures in the county, and to certify them to the Exchequer...