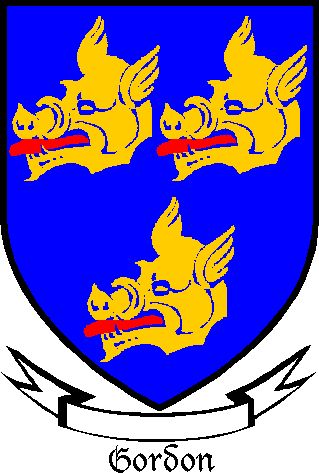 Get this crest printed on...
GORDON Family History
This famous surname, with spellings of Gordon, Gorden and Gourdon, is of locational origins. It is Scottish from Gordon in Berwickshire, or Anglo-French from Gourdon in the departement of Saone-et-Loire, France. The former was so called from the Olde Gaelic "gor", meaning large or spacious, plus "dun", a fort and the surname was first recorded in the mid 12th Century, (see below). Adam de Gurdun, recorded in the Pipe Rolls of Hampshire dated 1204, is believed to have come from the French town, so called from the Gallo-Roman personal name Gordus, plus the locational suffix "-on(is)". One, Geoffrey Gurdun appears in the Curia Rolls of Kent, dated 1220 and an Adam Gordon in the 1279 "Hundred Rolls of Cambridgeshire"...