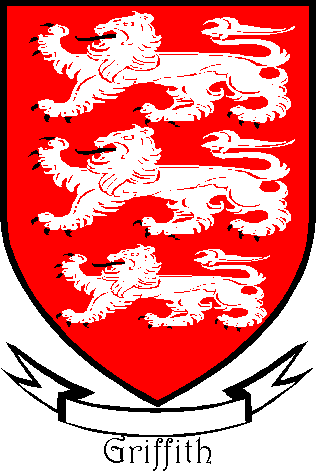 Get this crest printed on...
GRIFFITH Family History
This ancient Welsh surname derives from the Old Welsh personal name "Grippiud", which gradually developed into "Griffudd", and "Gruffudd", and the early standard form "Gruffydd". The normal pronunciation of the name in South Wales became "Griffidd", and those medieval scribes who were not Welsh generally wrote "Griffith", as being the closest phonetic spelling within their writing system. This form, Griffith, and Griffiths the patronymic came to be used almost universally, as forename and surname, throughout Wales. The first element of the name, "Griff", is of uncertain origin, but is thought to mean "strong grip", with "(i)udd" the second element meaning "chief, lord"...