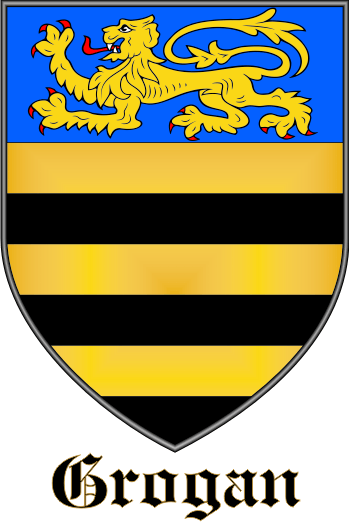 Get this crest printed on...
GROGAN Family History
This interesting name is of Irish origins and appeared with the Prefix "O" until the 17th Century. In the 16th and 17th Centuries references are plentiful but by 1550 the sept had been dispersed from their homeland in Connacht, and seem to be found subsequently in counties Limerick, Kildare, Offaly and Tipperary. The derivation of this name is almost certainly from the Gaelic "Gruagain", a personal name from a diminutive of "gruag", hair, but Grogan may also be the Anglicization of the Gaelic "Grugain" from the personal name "Grugan", a diminutive of grug, fierceness. In the Tudor Fiants the name is usually recorded as O' Grogan but also with variants such as O'Grogane, O'Growgane, and O'Gruogan...