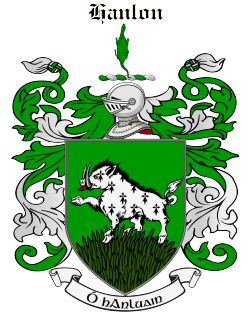 Get this crest printed on...
HANLON Family History
This name is of Irish origin, and is an Anglicized form of the Gaelic name "O'Lanluain", the prefix "O", sometimes dropped in the modern forms of the name, meaning "grandson", "male descendant of", with the personal name "Anman", derived from the intensive prefix "an-" with "man", light, radiance, or warrior. Traditionally, Irish family names are taken from the heads of tribes, or from some illustrious warrior, and are usually prefixed by "O", as above, or "Mac", denoting "son of". In Ireland the surname is always associated with County Armagh, the sept being located in the baronies of Oneilland and Orior. For Centuries their chiefs were known as lords of Orior...