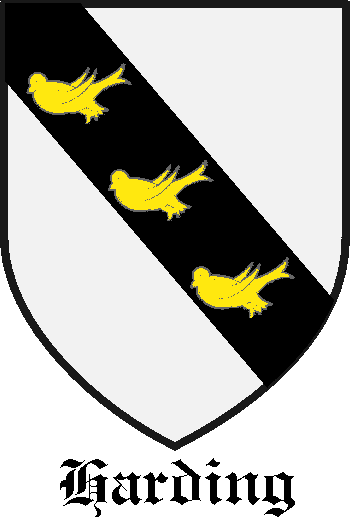 Get this crest printed on...
HARDING Family History
This is an English name of considerable antiquity, and usually recorded as Harding or Arding. It has its origins in the pre 7th Century personal name 'H(e)arding', the patronymic form of 'H(e)ard', and meaning 'the son of the hard one'! To be so called was well thought of in those far off days, when most 'names' were associated with war, glory and god. The origins are Anglo-Saxon (Germanic), and later after the 1066 Invasion, Norman-French as well. Whilst usually an independent byname, it may also be found as a short form of various pre 10th century compound names with 'hard' as a first element, such as 'Hardwulf', although this does not seem to have come down as a modern day surname, or 'Hardstaff' which has, although this latter maybe a medieval nickname of less salubrious meaning...