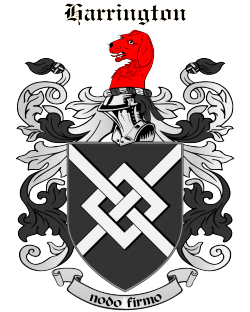 Get this crest printed on...
HARRINGTON Family History
This long-established name is of Anglo-Saxon origin, and is a locational surname deriving from any one of the places called Harrington: in Cumberland, near Whitehaven; in Lincolnshire, near Spilsby; and in Northamptonshire, near Kettering. The place in Cumberland, recorded circa 1160 as "Halfringtuna, Haverinton", is so called from the Olde English pre 7th Century byname "Haefer", from "haefer", he-goat, with the suffix -ing(as)", denoting people, tribe of, and "tun", settlement, enclosure. Harrington in Lincolnshire is recorded as "Harinton" in 1202, and is named with the Olde English "haer", stony ground, with "tun", as before, while the Northamptonshire Harrington, recorded as "Arintone" in the Domesday Book of 1086, and as "Hetherington" circa 1100, is so called from a derivative of the Olde English "haeth", heath; hence, "the settlement of the dwellers on a heath"...