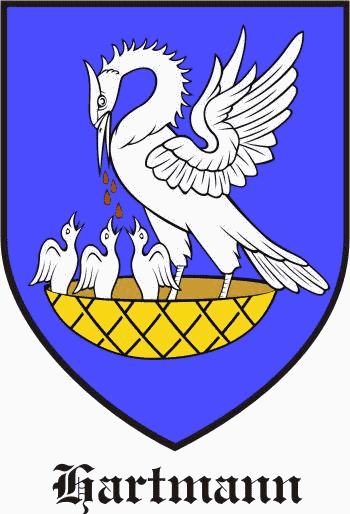 Get this crest printed on...
HARTMANN Family History
Recorded in many spellings including Hart, Harte, Heart, Hart and Hartman (English), and Hart and Hartmann (German), de Herte (Flemish & Dutch), Hiorth and Hjorth (Swedish), this interesting surname was usually a nickname. It is medieval, and a good example of that sizeable group of early European surnames that were gradually created from the habitual use of nicknames. The nicknames were given with reference to physical attributes and sometimes supposed resemblance to an animal's appearance or disposition. In this case the derivation is from pre 7th century word "heorot", and as a nickname this would have been given to a fast runner, or perhaps, given the robust humour of those times, the complete reverse! Where the suffix -man(n) is used, this suggests that the name was occupational, and may mean the friend or servant of Hart...