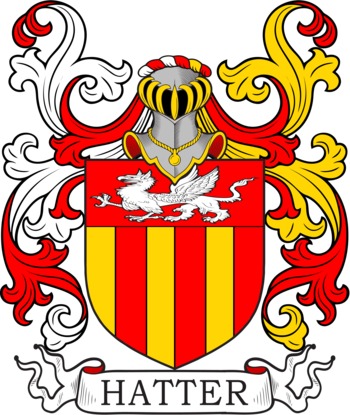 Get this crest printed on...
HATTER Family History
This name derives from the Old English pre 7th Century "haet" meaning a hat and was originally given either as an occupational name to a maker or seller of hats, or as a topographical name to one resident by a hat-shaped hill. One, Roger Hat was noted in "early London personal names" under the date 1148, and a Randulf Hat in the 1168 Pipe Rolls of Dorset. The surname containing the agent suffix "er", (one who does or works with), first appears on record in the early 13th Century, (see below). Other early recordings include: Henry le Hatter, "The Hundred Rolls of Huntingdonshire", (1273), and Robertus Hatter - "The Poll Tax Returns of Yorkshire", (1379).