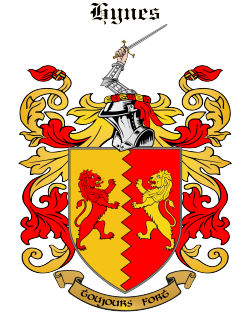 Get this crest printed on...
HYNES Family History
Recorded as Hine, Hyne, Hines and Hynes, this is an English or Irish surname. It has two distinct possible origins, each with its own history and derivation. Firstly, it may be of Anglo-Saxon origin, and an occupational name for a servant in a great household.The derivation is from the Middle English word "hine", meaning a lad or servant and originally a collective term for a body of servants, from the Olde English pre 7th century word "hiwan", meaning a household. Servants in important households were highly regarded, and frequently held senior positions enjoying a number of privileges. Such posts would often become hereditary...