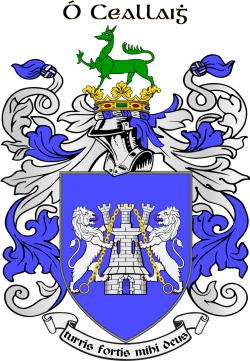 Get this crest printed on...
KELLEY Family History
Ó Ceallaigh is angliciized as (O) Kelly, Kelley &c. the name Ceallach has been translated as 'strife' or 'contention' or 'bright-headed'.
There were several powerful distinct septs of the name. The two most influential were the Uí Maine sept in Oriel, ruling extensive lands in Connacht, and the Southern Uí Néill sept in Meath who were lords of Brega, near Navan; they were one of 'the four tribes of Tara'. Other septs were in Derry, three in Laois, one in Wicklow, one in Sligo and one branch of the Corca Laoidhe in west Cork
In the 1659 'Census' of Sir William Petty, Kelly is listed as a 'Principal Irish Name' in the following counties (NB Galway, Mayo & Tyrone returns are missing): all figures are for families, Kildare (240 + a scattering of Keely, see below); Kilkenny (133); Laois (121); Dublin (98) + city (16); Down (63 -some still with prefix 'O'); Meath (54); Donegal (39, often with prefix 'O'); Tipperary (90, including 30 or so 'Kealy' this last may well be a distinct name, Ó Caollaidhe, a sept in Co Kilkenny); Clare (28); Offaly, Kelly (18) and Keely (36, see foregoing); etc etc
By the time of Griffith's 'Primary Valuation' (1850s) of households in Ireland, high numbers are recorded over the whole country: the top five counties are: Galway (986) Roscommon (815) Tyrone (514) Kilkenny (466) and Kildare (461).
In the Registrar General's Report on births in 1890, Kelly has the second highest number in Ireland, the most being in Dublin, Galway, Mayo, Roscommon and Cork.
Kelly is also a surname from Kelly in Devon (from 'kelli' which is Cornish for 'grove'), and a family of the name has been established there since 1086. Place names in Scotland, Kelly near Arbroath and Kellie in Fife, have also given rise to the Scottish surname. Kelly is also a surname of the clan MacDonald. There are many Irish names whose anglicised forms are identical to lesser known British names; individuals bearing these British names were in Ireland during especially the 17th century, as officials, settlers and soldiers. (v. Appendix).
Early references:
'Mór, daughter of Donnchadh, son of Ceallach, and queen of Ireland, died': recorded in the Annals of Tigernach for 986.
Tadhg ua Ceallaigh, lord of Uí Maine, died at the Battle of Clontarf: recorded for 1013 in the Annals of the Four Masters.
Two famous Kellys:
Grace Kelly (1929-1982) film star and Princess of Monaco.
Gerry Kelly (b 1953) IRA volunteer in the northern 'Troubles', now Sinn Féin politician.
Appendix.
Also q. v. v. Boland, Boyle, Brady, Breen, Buckley, Canny, Car(e)y, Conway, Craven, Crowley, Cullen, Curry, Delan(e)y, Farren, Fearon, Foley, Gavin, Geary, Gorman, Hanl(e)y, Healy, Hurl(e)y, Hynes, Kelly, Kenny, Larkin, Loftus, Long, Luc(e)y, Lyons, Mullen, Rea, Reaney, Ring, Sexton, Trac(e)y, Tunney et. al.