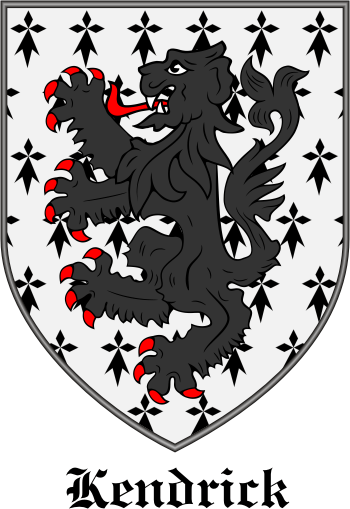 Get this crest printed on...
KENDRICK Family History
Recorded as MacKendrick, McKendrick and Kendrick, this interesting surname has a number of possible sources depending on from which country it originated. In England it was derived from the given name "Cenric" or "Kendrich", from the Old English pre 7th Century "Cyneric", composed of the elements "cyne" meaning royal and "ric" power. The Welsh personal name "Cynwrig" was the origin of the Welsh surname, which derived from the elements "cyn" meaing a chief and "gwr", a man plus the suffix of quality "ig". In Scotland the surname originated from Machendrie or Mackendrick, which are Highland border names meaning "son of Henry", whilst in Ireland the surname is a variant of Enright, an anglicized form of the Gaelic byname "Indreachtach" meaning the attacker...