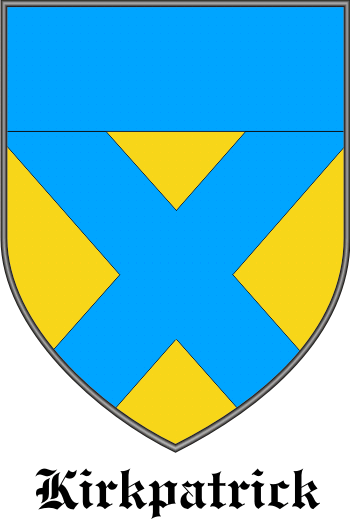 Get this crest printed on...
KIRKPATRICK Family History
This name is of Scottish locational origin from a chapelry of that name in the parish of Closeburn. The name derives from the Northern Medieval English 'kirk', a church plus Patrick. The church in this case was dedicated to St. Patrick, known as 'The Apostle of Ireland', Patrick, (from the Latin 'Patricius' meaning 'nobleman'), is generally thought to have been born at or near Dumbarton. Several places throughout the British Isles have been named in his honour. The surname from this particular location is first recorded towards the middle of the 12th Century (see below). One, Ivo de Kirkpatrick and his heirs had a charter from Robert Bruce of a place between Blawatwood and the Water of Esk, circa 1190 and a John de Kirkpatrick of Dumfriesshire rendered homage to John Balliol in 1296...