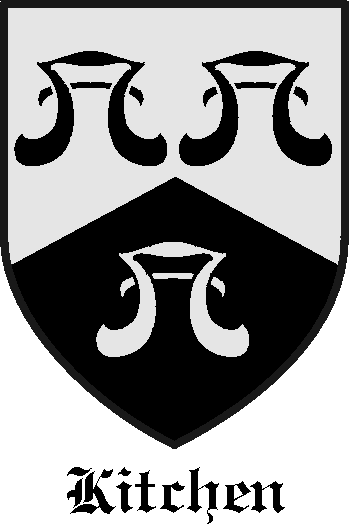 Get this crest printed on...
KITCHEN Family History
Recorded in the spelling forms of Kitchen, Kitchin, Kitching, Kitchingman etc, this is a medieval job descriptive English surname. It is occupational and describes a person who worked in a special 'kitchen', one belonging to a monastery or perhaps a noble house. The name implies a definite status equivalent to kitchen manager, or similar. The word derives from the Olde English pre 7th Century "cycene", itself a descendant of the Roman (Latin) "cucina", word introduced to Britain in the 1st century a.d. In medieval times, from the 12th century, the spelling developed to "kychene", not far from the modern surname. Early recordings of the surname taken from the ancient charters of the Middle Ages, include Nicholas atte Kechene in the 1327 assize rolls of Somerset, and Adam de Kitener and Willelmus Kychynman in the 1379 Poll Tax rolls of Yorkshire...