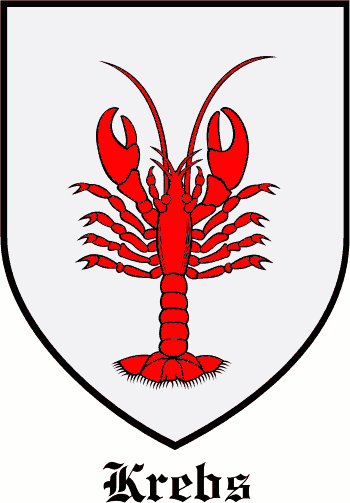 Get this crest printed on...
KREBS Family History
Recorded as Crab, Crabb, Crabbe and Crabtree (English and Scottish), Krabbe, Krebb, Krebbes, Krebes, Kreft, Kraft, and Krawt, (German and Jewish), this surname can be either topographical name for someone who lived at a crabtree orchard, or a medieval nickname. If the latter it described for someone with bandy legs whose gait or movement bore a fancied resemblance to a crab! The origination is from the pre 7th century word 'crabba' apparently of ancient Norse-Viking origins. The surname whilst first recorded in England as shown below, is also very early in both Germany with Johann Krabbe being so recorded in Hamburg in 1293, Erhard Krebs of Strasburg in 1371, and in Aberdeen, Scotland in 1310 with that of Paul Crab...