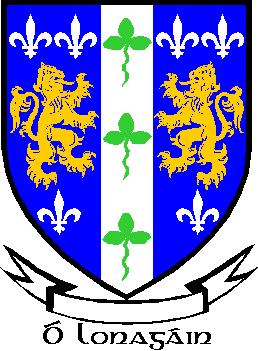 Get this crest printed on...
LANIGAN Family History
Lanigan is an anglicized form of the Olde Gaelic O Lonagain. The Gaelic prefix 'O' indicates 'male descendant of', plus the personal byname Lonagain, believed to derive from 'Ionigh', a verb meaning 'supply' or 'provide'; hence, 'descendant(s) of the supplier'. The original territory of the O' Lonagains lay in Urmhumhan, a ancient land division comprising much of the modern County Kilkenny and North Tipperary. Ballylanigan, situated near Callan, County Kilkenny, derives its name from this clan, the first element coming from the Gaelic 'baile', a town or settlement. In Petty's census of Ireland taken in 1659 the name Lanigan was still most widespread in its original homeland...