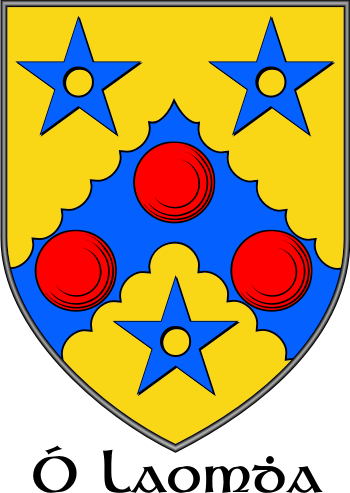 Get this crest printed on...
LEAMY Family History
This interesting surname is the Anglicized form of the ancient Gaelic "O'Laomdha", which is composed of the Gaelic prefix "O", male descendant of, and a personal name from "laomdha", bent, and which was later found as "O'Leime". This was the name of an Old Gaelic sept of Upper Ormond, which now forms part of the modern counties of Kilkenny and north Tipperary, although the surname itself has always been closely associated with ipperary. The name has often been confused with O'Leany, which is a rare Munster name from "O'Laighnigh", meaning "male descendant of the Leinsterman". Traditionally, Irish family names are taken from the heads of tribes, revered elders, or from some illustrious warrior, and are usually prefixed by "O", as mentioned above, or "Mac", denoting "son of"...