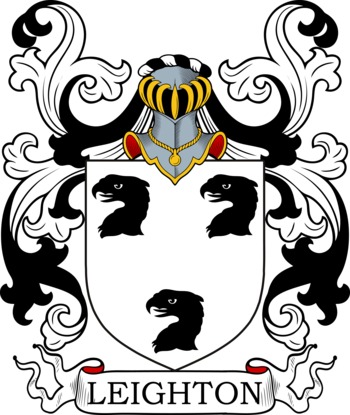 Get this crest printed on...
LEIGHTON Family History
Recorded as Layton, Laytoun, Leaton, Leighton, Leyton, and Leaton, this is a famous surname of English or sometimes Scottish, origins. It is locational from either Leaton, a village near Shrewsbury in Shropshire, or one of the various villages called Leighton in the counties of Bedfordshire, Cheshire, Huntingdon, Shropshire or Laytoun in Scotland. All derive from the pre 7th century word 'leac' meaning a leek, and describe leek farms. From medieval times the name holders have made their mark, with Richard Leighton being knighted by King Edward 11nd of England in 1313, whilst in 1330 Randolph de Leighton was similarly rewarded by King Edward 111rd.