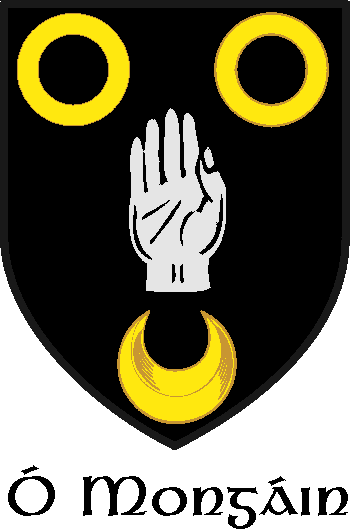 Get this crest printed on...
MANGAN Family History
This name, with variant spelling Mongan, is an Anglicized form of the Old Gaelic O Mongain. The Gaelic prefix 'O' indicates 'male descendant of', plus the personal byname 'Mongan' referring to one with a luxurious growth of hair (from 'mong', long-haired, plus the diminutive suffix 'ain'). Three branches of this sept existed in ancient Ireland. The Ulster sept which gave its name to the parish of Termonomongan in County Tyrone is no longer numerous. The Munster Mangans, orginally belonging to Counties Cork and Tipperary, now have a wider distribution in County Limerick. The territory of the third sept lay in North Connacht where the name was phonetically Anglicized as Mongan...