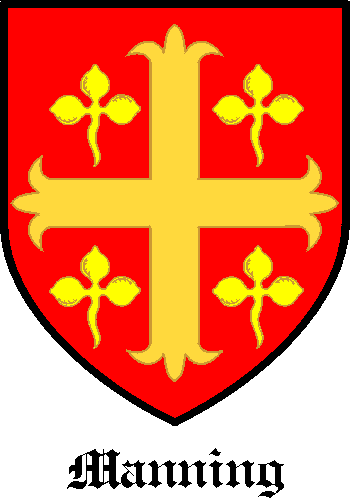 Get this crest printed on...
MANNING Family History
Recorded as Manning and the patronymic Mannings, this is an English surname but one of pre 7th century Norse Viking origins. According to the famous Victorian etymologist Canon Charles Bardsley writing in the year 1880, it derives from 'maningi,' a word which translates as valiant or strong. The name is preserved in such towns as Manningford or Manningtree. This seems to be the correct interpretation and this would seem to be confirmed by one of the earliest recordings of Henry Maninge of Cambridgeshire, in the Hundred Rolls of land owners of that county in 1273. Other early examples of the surname recordings taken from surviving church registers of the diocese of Greater London include: the christening of Johan, the daughter of Launcelot Manning, on January 14th 1564, at St...