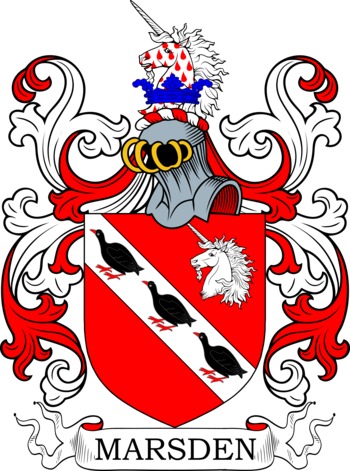 Get this crest printed on...
MARSDEN Family History
This interesting surname is of Anglo Saxon origin, and is a locational name from places called Marsden in Lancashire, and the West Riding of Yorkshire, deriving from the Olde English pre 7th Century "mearc" meaning boundary, and "denu", valley; hence, "a valley forming a natural boundary". The placename is recorded as "Merkesden" (1195), in the Pipe Rolls of Lancashire, and as "Marchesden" (1274), in the Wakefield Court Rolls. The surname dates back to the mid 13th Century (see below), and early recordings include: Johanna de Merrsden (1379), in the Poll Tax Records of Yorkshire, and Peter Marsden (1459), in the Kirkstall Abbey Rent Roll.