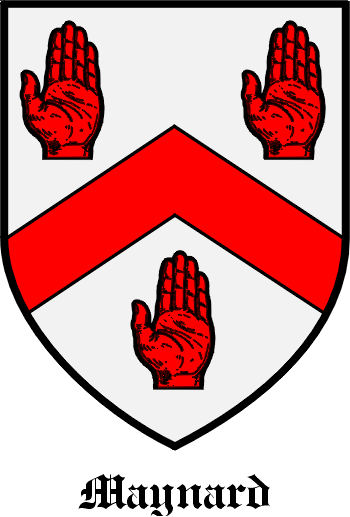 Get this crest printed on...
MAYNARD Family History
This interesting surname is of Norman origin, introduced into England after the Conquest of 1066. The surname derives from the Old French personal name "Mainard", "Meinard", ultimately from the Old Germanic "Maganhard", "Meginard", composed of the elements "magin", strength, with "hard", hardy, brave, strong; hence, "strength-strong". "Meinardus", (without surname) is noted in the Domesday Book of Norfolk (1086). Thomas filius (son of) Meinard is listed as a witness in the Assize Court Rolls of Lincolnshire (1202). The surname is first recorded in the late 12th Century (see below), and can also be found as Mainerd. An English family called Maynard trace their descent from Sir Richard Maynarde of Kirklevington, Yorkshire, who fought at Agincourt in 1415...