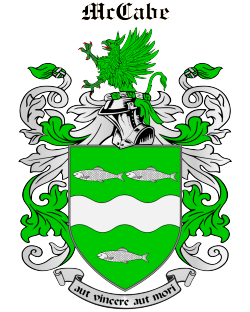 Get this crest printed on...
MCCABE Family History
This interesting surname is of Irish and Scottish origin, and is an Anglicized form of the Gaelic "MacCaba" a patronymic from the byname "Caba", a cape or hat. In the Middle Ages Irish chieftains imported fighting men from Scotland to augment their forces. Many of these mercenaries, known as gallowglasses, were the M(a)cCabes who came from Inis Gall in the Hebrides. They served the O'Reillys and the O'Rourkes of Counties Leitrim and Cavan, and received their name from the peculiar hats they wore. They remained in Ireland to find their own sept. William Putnam McCabe (1776 - 1821), was one of the most romantic figures among the United Irishmen...